Located on the north-east coast of Bali, Tulamben is a fishing village best known for the world famous USAT Liberty wreck. This snorkeling site offers the most interesting and unique landscape of Bali. The area has been impacted by Mount Agung eruptions, one of the two active volcanoes in Bali. Tulamben beaches are covered by round black stones and the vegetation is remodeled by the hot lava.
It is recommended to book a local guide to find the wreck as it can be easily missed as most of the boat cannot be noticed from the surface

DIVETIP
My snorkeling experience:
Tulamben area is a special snorkeling experience. Considering you have a mix between volcanic landscape and a large wreck in shallow water it is a must if you are in Bali.
Also it is good to know that snorkeling area is reached from shore so boat transfer is not needed.
USAT Liberty wreck:
This is one of the most popular snorkeling destination in the world considering the opportunity to explore a shipwreck. This impressive 125 m / 415 feet long transporter was torpedoed by japanese army during WWII. The current position of the wreck is the result of the 1963 Agung eruption that breaked and slid the ship on a sandy slope. The wreck is submersed in shallow water, starting from 5 meters and has a maximum depth of 30 meters.
Shipwreck site is a plankton-rich area with a great variety of fish and coral. Snorkelers can explore the top of the ship, which is an artificial reef with healthy hard and soft corals. You will see giant barrel sponges and colorful sea fans attached to the metal structure of the sunken ship. The wreck is home to a large number of tropical reef fish. You can easily see surgeonfish, parrotfish and schools of fusiliers and sweetlips. If you pay attention you can even spot lionfishes or stingrays.
The Coral Garden:
If you feel tired or had enough of the wreck, Coral Garden is a shallow reef located near Liberty. Being not far from the shore with no current, it is also perfect for beginner snorkelers. The reef has a good mix of anemone, table corals, sponges and soft corals. You can encounter clownfish, butterflyfish, angelfish, blue tang, moorish idol. You can occasionally spot blacktip or whitetip sharks.
Photo Gallery (diving):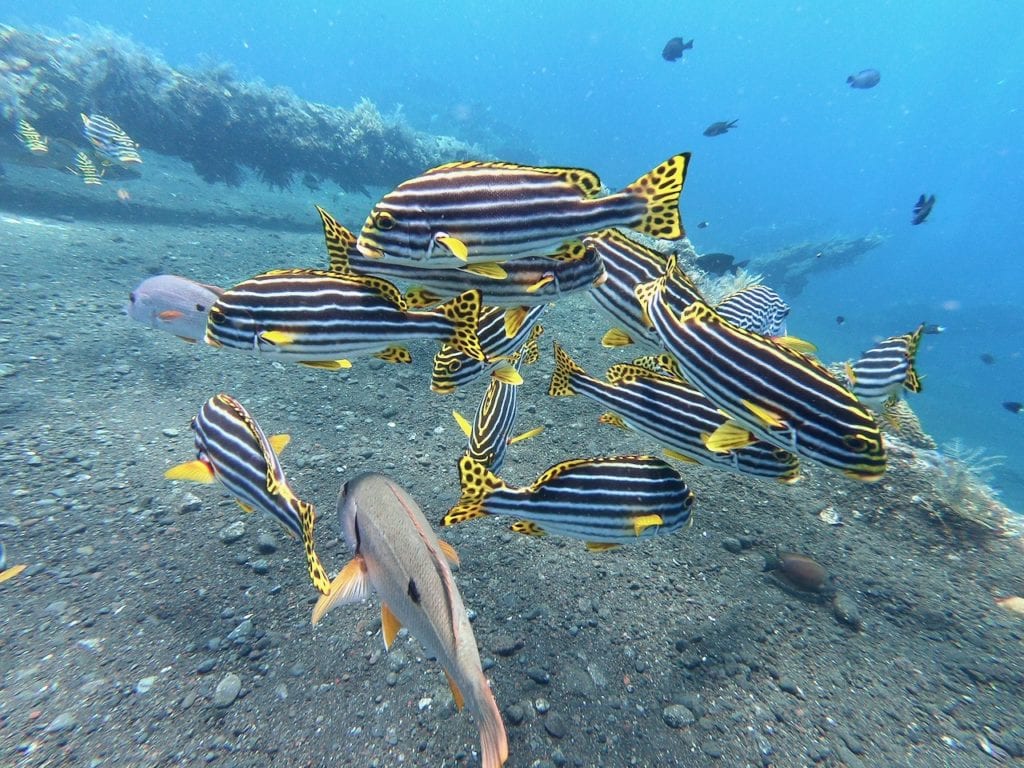 When to visit Liberty Wreck:
There are two seasons in Bali: a dry season from April to September, and a rainy one from October to March. The driest months are July and August. These are the best months for snorkeling but keep in mind that Bali's high season can bring crowds and increase prices. Shoulder months – June and September are also a good option.
What you`ll see:
Wreck, Bumphead Parrotfish, Sweetlips, Pufferfish, Surgeonfish, Angelfish, Pufferfish, Trevallies, Moorish Idol, Moray Eels, Turtles, Clownfish, Anemones, Sponges, Sea Fans.
Snorkeling rating:
---
Interested in diving ? Read the scuba diving tips for Liberty wreck.
USAT Liberty video.