Why do we need a dive computer ? What is the best dive computer for everyday use and what to look for when searching for one.
What are divetables
A set of data that allow divers to determine a decompression schedule for a given dive profile and breathing gas. Diver has to keep track of the maximum depth and the bottom time before and after the dive. In case of multiple dives the surface interval must be accounted also. This can be tedious and not very precise and the use of tables is very conservative leading to less dive time.
Read more about Recreational Dive Planner here.
What are dive computers
A dive computer takes depth and time information and applies a set of mathematical formulas to a decompression model to track the dissolved nitrogen in your body during a dive to calculate safe dive limits.
What to look for
changeable battery and ideally rechargeable
multi-gas (air, nitrox, trimix)
ability to export dive profile
re-usability (smartwatch, other sports)
air integration (ability to read pressure from tank)
good display with contrast and back-light
alarms for depth and ascent/descent rate
compass
My recommandation
I have been using for more than a year the Garmin Descent MK1 as dive computer and as a smartwatch everyday and I do not have any major complaints.
Smartwatch and day by day use
Garmin has one of the best products in the smartwatch space. All sorts of notifications and customization like watch-faces and apps are available.
Battery life is better than the average smartwatch with over 10 days with moderate usage (connected 24/7 to smartphone and 1 hour tracked sport/day). Needless to say that the battery is rechargeable.
Tracked sports list is extensive and I did not find any sport that I practice not to be tracked. The list includes (and is not limited) to running, cycling, snowboard, swimming, indoor treadmill, elliptical.
Display is bright with full colors that are visible in any conditions (underwater, not so clear water, night dive, sunny day on the beach).
Install an app for tides information to monitor the high/low values and to have your own data. This can be useful when the water is changing condition based on the tide phase.

DIVETIP
Dive computer
One can configure type of gas used with support for Air, Nitrox and Trimix (single and multi-gas). Conservatism have 3 presets (low , medium and high) and 1 custom input. Almost everything can be configured like O2 partial pressure, safety stop length and alerts.
Alerts include Maximum Depth, Deco Limit and Ascent/Descent rate. Notifications include both tone and vibrations so it easy to notice them during the dive.
The activity timer starts automatically when you reach a depth of 1.2 m /4 ft and one can scroll through the data screens and dive compass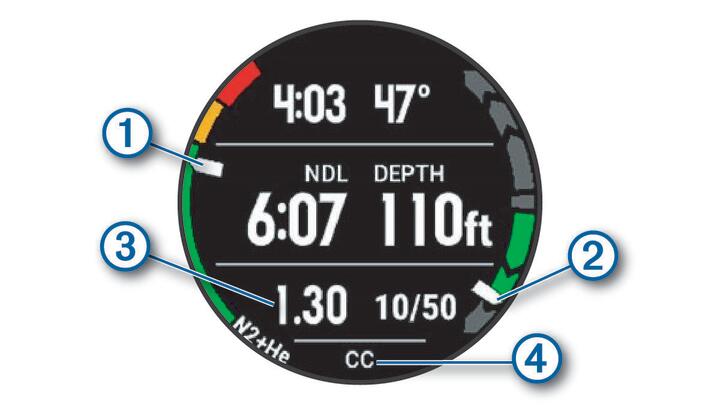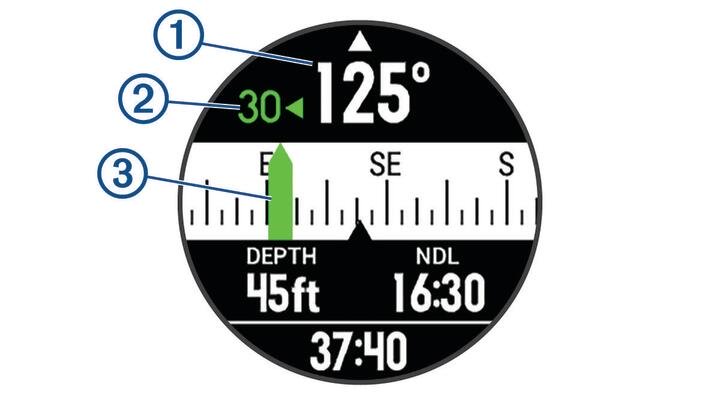 After Dive
On watch logbook is available (up to 200 dives) to check your dives. Extensive details regarding the dive can be found like : surface interval, CNS, min/avg temperature, max/avg depth, max/avg HR. Entry and exit points are save using GPS.
Dive log can be accessed on a smartphone or online in Garmin account where more stats and profiles are available.
Not so good
No air-integration
Dive plan menu is cumbersome and not very intuitive
Technical Features
depth rating 100m / 325 feet
Closed Circuit support
disable Deco Lockout
200 dives log
1.2in/3.04cm Garmin Chroma display
Price
Garmin Descent MK1 is priced 1000 € / $ for the base model and can go up to 1500 € / $ for the Titanium Band.
Final verdict:
I would definitely recommend this dive watch for every recreational diver that wants a nice dive computer and a fully featured smartwatch.
Other options
Entry Level
Suunto Zoop Novo:
250-300 € / $
Single Gas
Nitrox
No export
4 buttons menu
No Compass
Advanced Level
Suunto D5
600-700 € / $
Multi Gas
Optional air-integration
Rechargeable battery
Technical Level
Shearwater Teric
1100 € / $
depth rating 200m / 650 feet
Rechargeable battery
500 dives log
1.39in/3.5cm AMOLED display