The natural and picturesque landscapes have turned the rice terraces, like Jatiluwih and Tegalalang, into popular tourist attractions. From small rice terraces near villages to rice paddies stretching for miles to the horizon, rice cultures expand across the entire countryside. In this article we will focus on Jatiluwih Rice Terraces, which is less crowded and you can spend a whole day enjoying nature and taking pictures.
About Jatiluwih Rice Terraces
UNESCO's World Heritage Site since 2012, is the largest rice area in Bali with over 600ha paddies. Located in the heart of Tabanan Regency at 850 meters above sea level, Jatiluwih Rice Terraces offers an amazing view of rice paddies irrigated using an impressive traditional system called Subak. Subak is the foundation of Balinese agriculture and life and represents a traditional irrigation method preserved for centuries and passed from generations. This system ensures a continuous harvest cycle and water is fairly distributed between local farmers.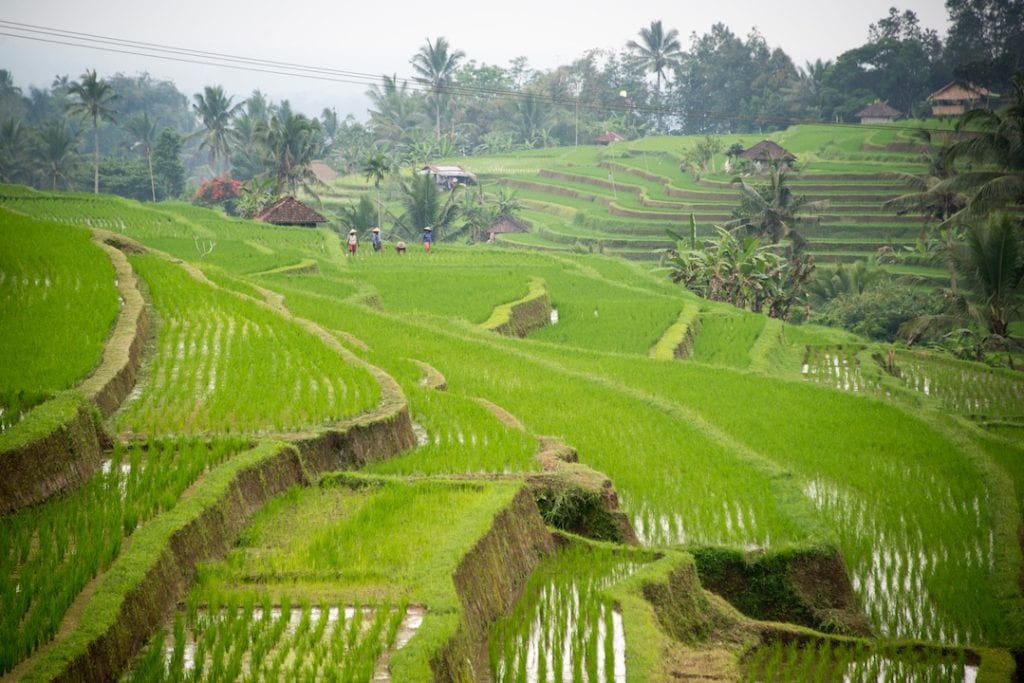 Our experience:
We arrived at Jatiluwih in the afternoon. At the entrance you can find maps for the main four routes ranging from one to three-four hours. With many hiking paths and viewpoints, the rice paddies are easy to navigate and are suitable for all ages. If you want to cover more, bikes and scooters are available for rental or you can just walk.
The parking lot is on top of a hill so this is a nice viewpoint. The landscape is breathtaking, with mountains behind the lush green paddy fields.
We descended through the rice parcels separated by small paths and surrounded by tall coconut trees. You can exit the main path but one should be careful as the rice provide cover for dangerous snakes. We also encountered farmers working on the rice terraces and cows in shelters built in the rice fields. It also common for the villagers to grow fruit trees like mango and papaya along the crops. If you want an authentic picture we suggest looking for farmers carrying shoulder poles (traditional basket used for rice carry).
Keep in mind that you should bring comfortable shoes and drinking water. On the main path there is not much shade so a hat and sunscreen are also recommended. In contrast with other rice paddies, Jatiluwih is large enough to have quiet places for enjoying the view and taking some pictures.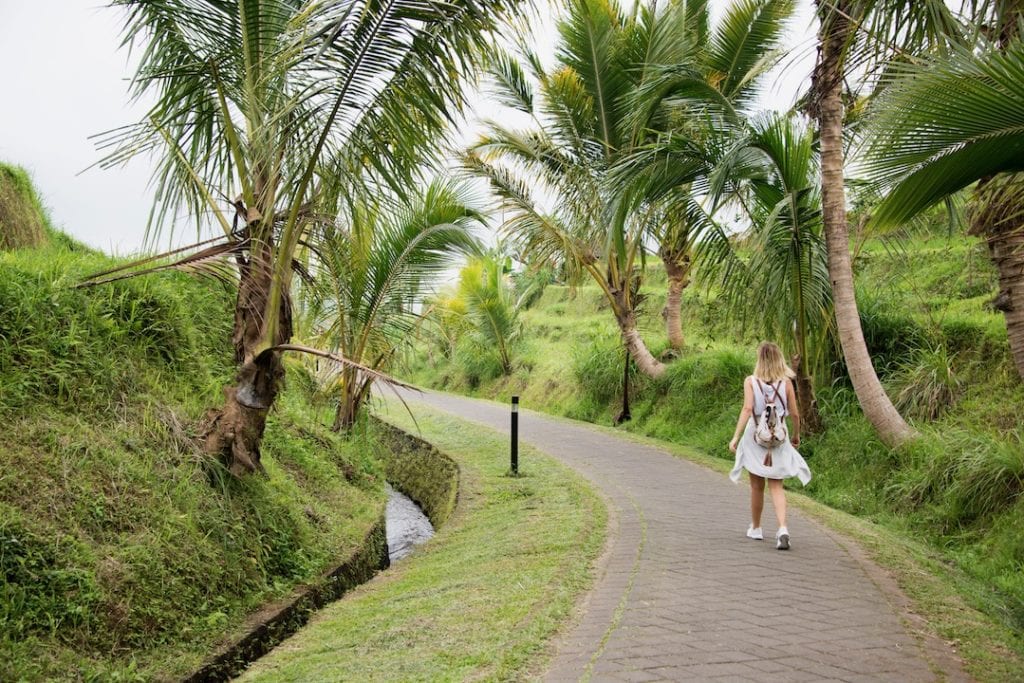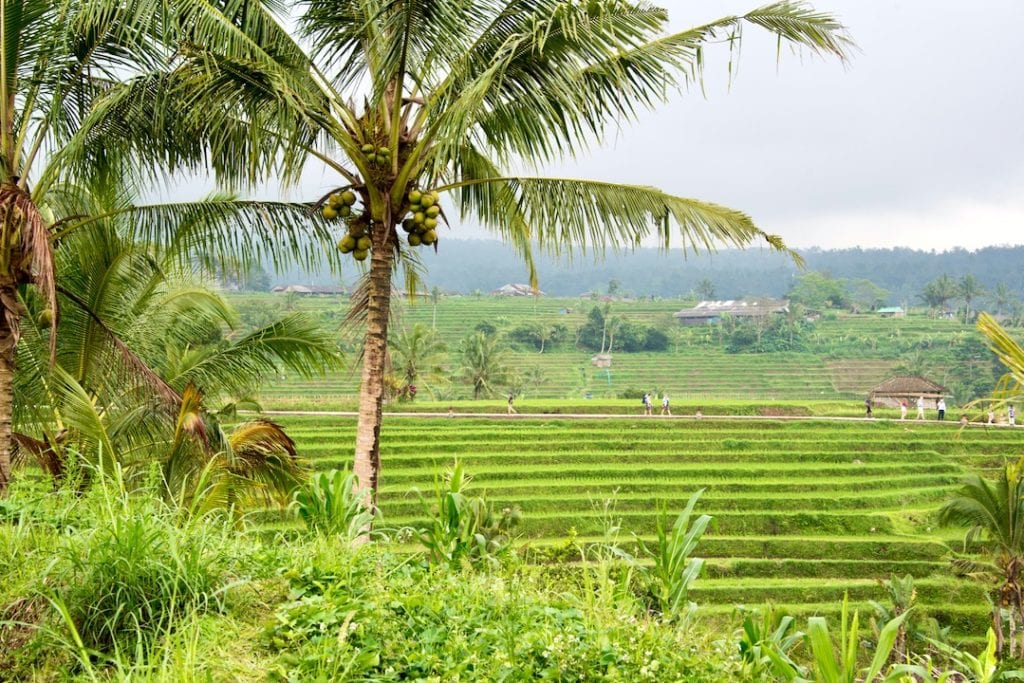 Around Jatiluwih rice fields, there are restaurants where you can have lunch, drink a fresh coconut and enjoy the scenery. They serve mostly traditional Balinese food and you will have the chance to taste red rice and sticky rice varieties that were grown in Jatiluwih. You can also buy some local produced rice as a souvenir.
Getting to Jatiluwih Rice Terraces:
Jatiluwih rice terraces are located 90 minutes away from Ubud and less than 2 hours away from South Bali. You can get here by driving yourself, hiring a private driver or taking a tour package. We took a day tour, which is affordable, time saving and gives you the chance to visit multiple places in one day.
Some nice tours include famous temples like Ulan Danu Beratan or Tahan Lot.
Time to visit:
When you plan your visit to Jatiluwih rice terraces, two things must be considered: time of day and time of year. The best time of the day is in the morning being less crowded, usually the area is busier during lunch time.
In terms of the best season you should keep in mind that during the wet season (November to March) there are a lot of randomly pouring rains that can ruin your visit. Harvesting time is also important, you should ask your guide before visiting to make sure the fields are green. The rice fields aren't spectacular after harvesting.
Photos:
Other rice terraces in Bali:
Tegalalang Rice Terraces
Rendang rice terraces
Munduk rice terraces
Sideman rice terraces
---
Read more from the official Indonesian tourism website.