Located in southeast Bali, Nusa Penida is a spot not to miss for your Bali dream vacation. Beside beautiful beaches, impressive cliffs, scenic temples and spectacular waterfalls the main highlight for snorkelers are Manta Rays. Being a cleaning station, Manta Point is the only place in Bali where you can spot these marine giants on a daily basis.
The water can be choppy and it is easy to get seasick while snorkeling. Avoid wearing a life vest as the movement is amplified.

DIVETIP
My snorkeling experience:
After a boat transfer that takes up to one hour from Bali – Sanur we arrived on the beautiful coastline of Nusa Penida. Manta Point is accessible only by boat and snorkelers are dropped close to the cleaning station.
Best time to visit is in the morning but keep in mind that manta encounter is not guaranteed. When we arrived at the site, we got a good indicator that the mantas are there as a lot of snorkelers were in the water. Immediately after we jumped into water we were surrounded by the manta rays. They are large and impressive but still gentle and peaceful.
The five meters giants emerge from the depth to the cleaning station, located just a few meters below the surface. They come here regularly and loop back again and again until their skin is completely clean of parasites.
In Manta Point, snorkelers can swim close to manta rays and enjoy their fascinating behaviour in natural environment but remember that you must respect the wild life, keep the distance and never chase or touch them. We spent here around one hour and I counted at least 10 of them.
Even mantas are not dangerous and they are known as curious and friendly around humans, it can be frightening to see these huge creatures swimming towards you.
Beside mantas, the site does not provide other attractions for snorkeling as the water is deep and no corals or tropical fishes can be seen. So keep in mind that in the unlikely event of manta rays not being present it will not be a funny experience.
Overall the experience is incredible and one of a kind. Unfortunately there is no limit for the number of boats or snorkelers in the area and it can get very crowded.
The current can be strong, especially for beginners, so you should take some precautions. The snorkeling was like swimming in a washing machine and the current pulls you towards the cliffs. Don't forget to watch out the waves and always keep the distance. For your safety it is recommended to be accompanied by a guide. Also, the water temperature is lower than other Bali sites and it is recommended to wear a wetsuit to fully enjoy the experience.
Photo Gallery (diving):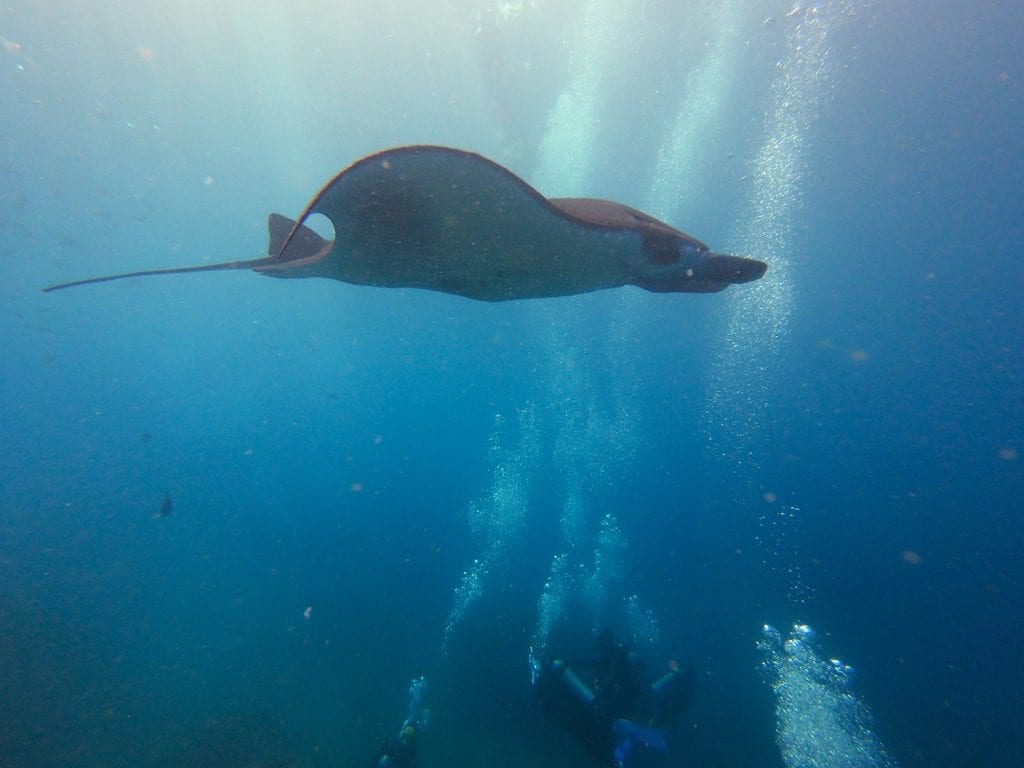 When to visit Manta Point:
Manta Rays can be encountered all year round and are most active in the morning.
What you`ll see:
White Manta Ray, Black Manta Ray.
Snorkeling rating:
---
Interested in diving ? Read the scuba diving tips for Manta Point.
Manta Point at Nusa Penida video.